I don't normally start thinking about Christmas until after my birthday at the end of the month, but this year I've decided to do a scrapbooking Christmas journal. A bit of preparation is needed though if I've got any chance of actually doing it through December so I decided to do my Journal dates over the weekend.

at the moment I can only scrapbook late at night when everyone is asleep!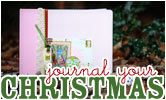 I have to credit Shimelle who is my scrapbooking idol and inspiration at the moment who runs the online christmas journal classes.